Silverlon Dressings are Proven to Reduce Surgical Site Infections — Proven by More Clinical Studies than Any other Silver Dressing.
What Makes Silverlon Silver Dressings Unique?
---
Silverlon Nylon Dressings Have a Permanently Plated Metallic Surface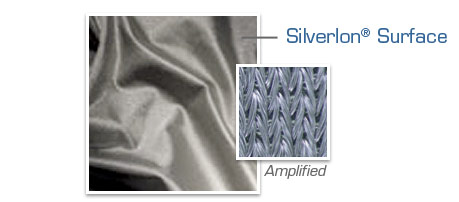 ---
Silverlon silver plated nylon technology offers many unique advantages over other silver dressings:
Silverlon Silver Dressings
Deliverable silver ions

Sustainable – every Silverlon® dressing can be used for up to 7 days

No increase in bioburden

Multiple peer reviewed studies

No staining
Silverlon dressings deliver a
continuous flow of silver ions into the wound
Other "Silver" Dressings
Silver Impregnated Dressings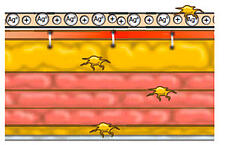 Very little silver – typically 1/50th as much
silver as Silverlon

Minimal ability to deliver silver ions, especially
if silver layer is not in patient contact

Typically backed by in vitro data only
Silver Nanocrystal Dressings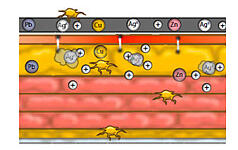 Typically 1/5th the silver of Silverlon

Ions are delivered by depositing nanocrystals
into the wound

Staining and stinging can occur

Increased bioburden
---
Silverlon dressings contain more metallic silver than any other dressing
---
Within 90 minutes, Silverlon dressings deliver enough silver ions to eradicate MRSA and keep delivering for up to 7 days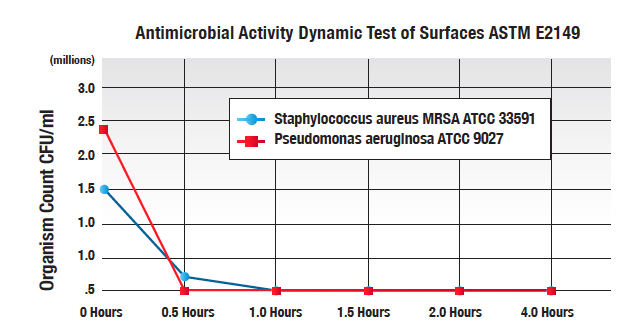 With hydration, silver
ions are continually
released until the
dressing is removed.
---
In a University of South Florida Study, Silverlon dressings reduced pain by up to 60% (p<0.001) and reduced the cost of analgesia by 45%